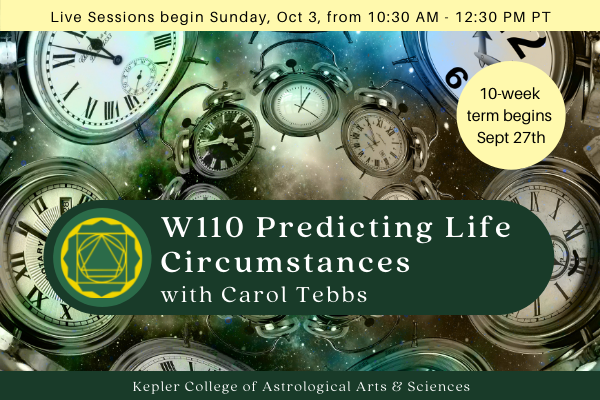 This course examines the development of modern Western interpretive methods of movement based upon planetary cycles, natural phenomena and symbolic interpretive tools from the 16th to the 21st centuries. It assumes the student's working knowledge of the elements of natal chart interpretation and synthesis. Areas of study for "moving the chart in time" Part I include:
Moving the chart with transits, secondary tertiary and minor progressions and solar arc directions
Interpreting Solar and Lunar Eclipses
The lunation cycle in life stages and variations of the Progressed Moon in interpretation
An overview of the history of chart movement techniques in modern western astrology
In addition to weekly homework of concepts applied to study charts of public personages, students meet weekly in Live Chat sessions through the GoToMeeting classroom with teacher and/or student presentations on these topics.