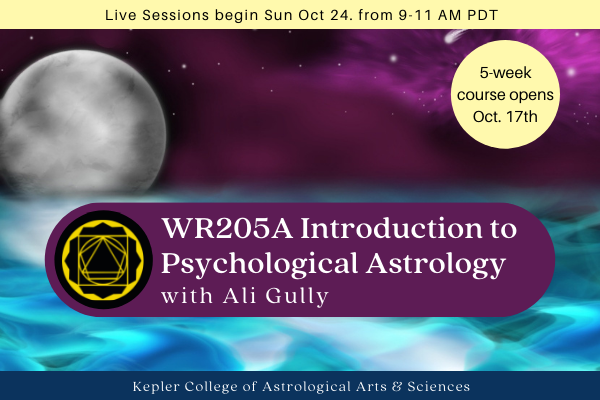 Course description: Know Thyself, is the first rule of client work. Get ready to learn more about yourself through the lens of Jungian Psychological Astrology. In this class, we do a deep dive by exploring astrological foundations of elements and modalities, and how they drive our personality and life choices. Students will explore their own natal chart for self-discovery and working with the MBTI (Myers Briggs Inventory). We will explore interpretations of planets in signs, the difference between the natal promise, and how the individual can evolve over time with their chart. Through discussions, reading, process journaling, and case studies, students will gain insights into self-understanding and client work.
Course name: WR205 Introduction to Psychological Astrology

Instructors: Ali Gully
Course length: 5 Weeks
Course cost: $295.00
Required Books:
Arroyo, Stephen 1975. Astrology, psychology, and the four elements: An energy approach to astrology and its use in the counseling arts. CRCS Publications. Sebastopol, California. Amazon: $13.97

Hamaker-Zondag, Karen 1991. Aspects and personality. Samuel Weiser, Inc. York Beach, Maine. Amazon: $14.95
--There will be additional referenced texts in the class and additional readings through articles linked on the class website.
Optional:
Rudhyar, Dane. 1991. The Astrology of Personality. Aurora Press. Santa Fe, New Mexico. Amazon: $24.95. Kindle: $9.99
Hamaker-Zondag, Karen 1994. Foundations of Personality: Combining elements, crosses, and houses with Jungian psychological concepts in horoscope interpretation, 2nd ed. Samuel Weiser, Inc. York Beach, Maine. Amazon: $14.95

Prerequisite: none
Students in the Diploma program who successfully pass this workshop can count it as 1/2 an elective towards their professional diploma.
Weekly topics:
1. Astrology's Psychological Roots
2. Psychological Qualities
3. Polarities, Planets, and Signs
4. Houses and Cycles
5. Aspects and Synthesis
Instructor bio:
Ali Gully
Ali Gully is the voice and visionary behind Ascent Astrology. She blends her background in therapy and passion for Hellenistic astrology into her work. With a BA in Political Science, a MSW from Tulane, and a MA in Organizational Psychology, Ali uses the person-in-environment approach when working with clients and organizations. She taught many classes in crisis management, self-care, ethics, as well as the basics and predictive methods of astrology.
Ali is a strong proponent in astrological pedagogy and apprenticeships; she has mentored under Maureen Leininger, Kelly Surtees, and April Elliot Kent. Ali is a member of several professional astrological organizations including the AFA, OPA, ISAR, AFAN, and NCGR. She is currently on the Steering Committee for AFAN specializing in Media Watch, Scholarship, and Membership. She is also on the editorial staff of Midheaven Magazine. Ali Gully lives with her husband, son, daughter and Scottish Terrier in Wisconsin.
Her email is: ascentastrology@gmail.com